Hey all,
Two more blog posts and then I'm on vacation for a whole month! WooHoo! My daughter is coming to visit us and we'll be busy exploring and having a great time together. It's been almost a year since we saw each other, so we're going to go hoarse yammering about the latest news.
It's hard to be away from my kids. My son Jeramiah's birthday is today, and I can't hug him and wish him well. (If you want to, go wish him Happy Birthday on his FB page. You can embarrass him for me! LOL
http://www.facebook.com/jeramiah.england
)
My other son, Jasiah, is having eye surgery at the end of the month, and I can't be there to hold his hand. Sometimes, living the dream isn't all that it's cracked up to be. *sigh*
But at least Jessaca is coming, so I can get a mommy fix. She's not just my daughter, but a good friend, and we'll whisper and kibitz and do all the things that best friends do. Jonathon will sigh and roll his eyes as we ogle hot guys, but he loves watching us together. His two best girls, he calls us.
I can't wait. I've been looking forward to this time for months. Jessaca and I are enough alike, I can pretty much plan our time and she'll fall right in. She'll add her own ideas, and for the most part, they'll dovetail right in with mine, and we'll have a blast.
I think I mentioned we're going to go on a castle tour. We're heading out the week after she gets here and doing the Castle Road and the Romantic Road here in Germany. We'll see as many castles as we can before we get bored, soak in the scenery, and once we've had our castle fix, we'll move on to the next phase of the trip.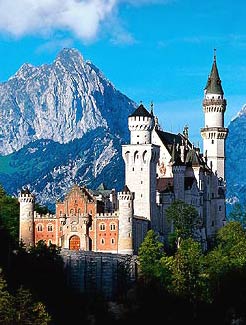 We especially looking forward to seeing Neuschwanstein Castle, which is what Walt Disney patterned his Sleeping Beauty Castle after.
We'll also go back into the Black Forest so she can see Triberg and some of those areas. We're hoping the fall colors are still around so she can enjoy them. Not a whole lot of autumn in Florida. LOL
Then we're heading to Paris for three days. We're going to show her the sights, do Paris Disneyland and let her experience the magic of the city. I can't wait to show her all the places we enjoyed.
We're also going to do a weekend in Amsterdam. She really wants to visit, and it's only a couple of hours away from Dusseldorf, so we're heading there first thing. There are a couple of castles there we can see as well.
So, as you can see, I'll be busy. It won't be my whole family to hug and squeeze and call George, but I'll take it!!!!
But I don't want to leave y'all hanging, so I'm going to do something special for those weeks I'm gone. A fun contest to keep you guys reading, and you'll win some fun prizes as well. So, on Sunday I'll explain all the rules and get things started. Okay?
Okay.
So give your sons and daughters or other various and sundry family members a hug, and remember how special it is that you can do so. Some of us have empty arms and can only give cyber hugs, even when our babies may need more. Jessaca's hugs will have to last me until next March when we go home to visit between the tours of Europe and South America. I plan on loading up on the hugs and kisses then.
Kids...watch out!!! Mommy's coming home!!!
Until Sunday,
Hugs,