My wish for you... May You Always Have a Shell in Your Pocket and Sand in Your Shoes...
~~~Anonymous
Hey all,
I just got back from three lovely days on the coast. Jonathon taught a dive class over a three day dark (show was closed for three days) on the beautiful island of Ilhabela. We had a wonderful time, staying in a lovely little cabana for two with a waterfall at the front door and the stream running right under the room. Yep! That's right. We fell asleep each night to the beautiful sound of water rushing beneath us. I have to say, the whole experience made it very easy to get romantic!!!! (naughty grin here)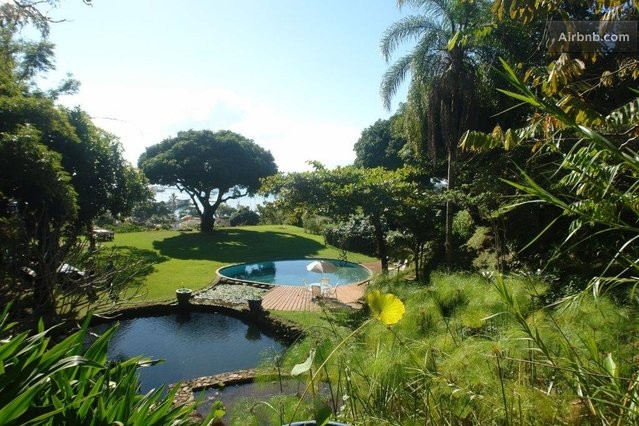 AND, the place came with two dogs you can love on as much as you want too. A huge plus for a frustrated animal lover. :-)
You can check out the resorts (actually a private home with cabins)
HERE
. As you can see by the pictures, it is a slice of paradise. Waterfalls, pools, trees, and tropical flora made it one of the prettiest places we've ever stayed.
It had a small village close by so we could pick up any last minute necessities. (The fresh fish was to die for!!!) There were tons of trails all over the island and the beach dives were a lot of fun. Jonathon taught several open water divers and helped out a couple of advanced as well as those who needed a refresher. I jumped in to help whenever he needed me, but I spent most of the time he was teaching wandering, swimming and just enjoying myself. I wandered the resort just feeling the sun on my face and listening to the breeze whisper in the palms.
I needed to get out of the city. Sao Paulo is so huge and filled with big buildings, I sometimes feel suffocated. I think I need a country, mountain or ocean fix every now and then just to make it through the days. While the park near our hotel is quite nice, there's just something about being on a primitive beach that stirs your senses and feeds your soul.
Since I don't know when I'll next be able to get my "fix", I made sure this long weekend filled me to the brim with everything I need to make it until next time.
Let me share a few pics from our time on the island. Click on pic to make larger. Enjoy!!!!
This picture was taken from the ferry looking at the island of Ilhabela. It's only a short distance from the mainland, about 20 minutes, so it's easy to travel to. Lush and green with lovely small villages, waterfalls and beautiful beaches. A dream!
On our way to the resort, we pass this beautiful beach and yacht club. You can swim there and it has plenty of pubs, kiosks and restaurants nearby.
Most of the rooms had kitchens, but our small, tucked away cabana didn't, so we used the common area kiosk near the pool to make our meals. It had everything you needed and we enjoyed the fellowship of our friends.
Our cabana was right behind the kiosk down these stairs. Not for the faint of heart, each step kept you (ha ha) on your toes! You can see the cabana at the bottom.
This picture was taken just in front of the waterfall looking at our tiny cabana. Surrounded by palms, bamboo and all sorts of foliage, it's VERY private. You can see the stream rushing beneath. Add that sound to the music of the waterfall, and I was in heaven. I'd love to go back and spend a week doing nothing but write!
Inside the room looking out at the waterfall and stream. Primitive, but so relaxing and restful. The shower had a window that opened up into the jungle so you could see nature while nature saw you!!!!
The beach were we dove. Starfish, urchins, sand dollars and small jellyfish near the beach, but larger and more plentiful life near the rocks along the small island you can see in the distance. I saw all kinds of fish, crab, sea slugs, more jelly fish, clams, sponges and coral. A lovely place to dive or snorkel and we could stay down a long time since it wasn't more than thirty feet at the most.
One last photo. Artsy-fartsy, but still a beautiful sunset. I'm hoping we go back with another group. It was so relaxing and a memory I'm glad to share with you all!
I hope you enjoyed a look at one of the beautiful places in Brazil. Now, as you can see, I've changed the date of this blog to Fridays. That's because in a few weeks I'll be starting another FREE READ on my FREE READ blogsite. I'll let you know more as the time get's closer and I hope you will all join me in the fun. Until next time...
Hugs,