Hey all,
I made it. As I post this I'm sitting in a hotel room overlooking my courtyard in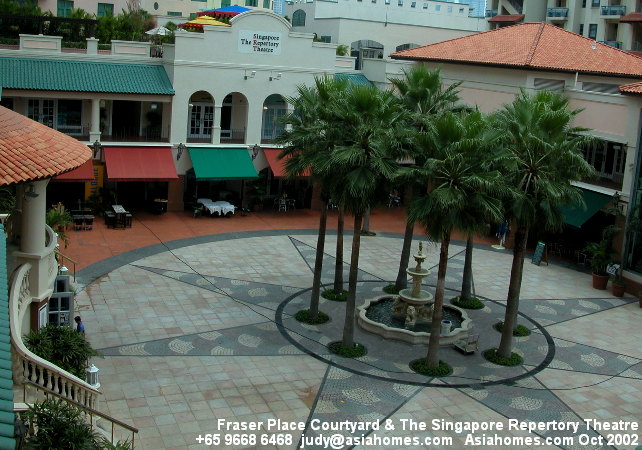 Singapore! It's hot, tropical and beautiful here, and I am enjoying every second of it.
Best of course is being back with Jonathon. Let's just say the reunion more than made up for the separation. Even though he's working 10 to 14 hour days, we are managing just dandy! LOL
I've got lots to tell you, so I'm going to start with the layover in Amsterdam. I was really worried at first because I had less time than I thought to visit the city. (took time to get through passport control) But, I still wound up with a good seven hours to explore.
First off, let me tell you I lucked out on the plane over. I was sitting in the middle seat section on an aisle seat and the plane was so empty I was able to stretch out across all four seats for the night. A sleeping pill and a couple of rum and cokes, and I actually got about four hours sleep. So once I got to Amsterdam I was raring to go. Stored my carry-on luggage at the airport in a locker, jumped on the train and off I went.
It was slightly drizzly when I got there, but I had an umbrella. I wandered out of the station and looke
d at the harbor and thought "wow...I'm in the Netherlands". After a quick dance with a nearby stranger, I started on my way.
My first stop was a canal boat ride. These hour long tours give you an overview of the city via the famous waterways. I got a great seat, right up front and proceeded to enjoy.
The canals are full of history and beauty. The houses are skinny and colorful and built right on the water. Each house has a hoisting beam at the top to lift large object and supplies through the windows. The doors and stairs are just too small to use.
This dates back to when the city used the waterways only for shipping. Now-a-days, they just have no choice.
In this pic, you can see the narrowness of the houses as well as another kind of house that is very common. The houseboat. These line the waterways and are strictly regulated because of the limited moorings. There are less than 2500 in the city and our guide said that number will never increase. Some were large and beautiful, others more like slums, but each was unique in its own way.
The tour gave a great overview of the city at large and once I had that under my belt, it was time to take a closer look at what I'd seen from a distance. Armed with a souvenir map, I headed first down the major tourist street to see what souvenirs to get. I'd hit that later, on the way out. I did pick up some yummy vlaamse frites-- which to those not in the know are the Amsterdam version of french fries served with mayo instead of katsup. Tasted like steak fries to me, so I wasn't sure what all the fuss was about. But I had them.
On to Anne Frank's house. I wasn't planning on going in, it's so crowded you wait for a very long time. But I was curious as to what it looked like.
I was disappointed. The original house had been swallowed up by another building, so other than a pic of the name in gold letters, there was nothing to be seen from the outside. So I said a quick prayer for all who had died and headed off to my next site, the flower market.
On the way I saw the palace which isn't something you can visit, but it's pretty mag looking at the outside. But I walked a bit further on and saw the market. OMG....it was so beau
tiful. Flowers and bulbs everywhere! I couldn't believe it!!! Even in February there were blooms of all colors.
The stalls line the river and stretch as far as the eye can see. Every type of bulb and flower you can imagine and some I'd never heard of. I was just amazed they could have all these flowers in the dead of winter!
I wanted to buy everything! But since I didn't know the importing rules of Singapore, I settled on getting a tulip bulb in a can. White Dreams. Isn't that perfect?
Now, this blog is getting long, so tomorrow I'll finish up my trip to Amsterdam. So far you've heard all the nice touristy things. Tomorrow, I'll take you deep into the dark alleys of sex shops, cannabis and window prostitutes. Shocking, I know, but I had a blast!!!!!
See ya all tomorrow!
Follow Your Dreams