Hey all,

Did you know that July is National Ice Cream Month? And since this Friday is the last day in July, I thought I'd take the time to honor what is probably my all time favorite dessert.
I love ice cream. Regular ice cream, gelato, custard, frozen yogurt, sherbets or sorbet, I'll eat them all. I adore home made ice cream and am enamored of anything Italian. I've tried ice cream in every country I've been in and enjoyed them all.
To this day when I hear the tinkling bell of an ice cream truck, I stop dead in my tracks and search for my own very heaven on wheels!
My favorite memory as a child is sitting on the porch in Bass Lake and eating Dewar's Famous Ice Cream. It was the best, and to this day my mouth waters just thinking about the delicious taste. Eating ice cream while we watched Fourth of July fireworks over the lake is something I'll never forget.
Recipes that have ice cream in them are some of my favorite desserts. And, since I have to be careful of my sugar content, when I do have ice cream I want to make sure it counts! So, in honor of this most delicious dessert, I've included a few recipes of my favorite ice cream desserts! Something to enjoy during this summer weather. (Since I'm in Belgium, not so much summer weather here, so I'm living vicariously through all of you! LOL)
Now, while these are all made with store bought ice cream, using home made will make them even tastier!
Ready? Let's start with a dessert that is perfect for tea time or a light after meal treat.
Use any ice cream or frozen yogurt to tailor it to your own preference. You can assemble and freeze the cakes up to a day in advance.
Ingredients
Cooking spray

1 cup

sugar

1/3 cup

butter, softened

2

large eggs

1 2/3 cups

all-purpose flour

1 teaspoon

baking powder

1/4 teaspoon

baking soda

1/4 teaspoon

salt

1 cup

buttermilk

1 teaspoon

vanilla extract

1/4 teaspoon

almond extract

3 cups

strawberry ice cream, softened

1 1/2 cups

fat-free frozen whipped topping, thawed

1 tablespoon

red maraschino cherry juice (optional)

12

red maraschino cherries with stems, drained
Preparation
Preheat oven to 350°.
Coat a 15 x 10-inch jelly-roll pan with cooking spray; line bottom of pan with wax paper. Coat wax paper with cooking spray; set aside.
Place sugar and butter in a large bowl; beat with a mixer at medium speed 5 minutes or until well blended. Add eggs, 1 at a time, beating well after each addition.
Lightly spoon flour into dry measuring cups; level with a knife. Combine flour, baking powder, baking soda, and salt, stirring well with a whisk. Add flour mixture and buttermilk alternately to sugar mixture, beginning and ending with flour mixture; mix after each addition. Beat in extracts. Pour batter into prepared pan. Sharply tap pan once on counter to remove air bubbles. Bake at 350° for 20 minutes or until a wooden pick inserted in center comes out clean. Cool in pan 10 minutes on a wire rack; remove from pan. Carefully peel off wax paper; cool completely on wire rack. Place cake on a large platter or cutting board; refrigerate until cold (about 2 hours).
Spread ice cream evenly over top of cake; cover with plastic wrap. Freeze until firm (6 hours to overnight).
Uncover cake. Cut cake with a 2-inch round cutter into 24 cake rounds. Discard scraps. Working quickly, place one cake round, ice cream side up, in a paper muffin cup liner; top with another cake round, ice cream side down. Repeat procedure with remaining cake rounds to form 12 filled ice-cream cakes.
Combine whipped topping and cherry juice, if desired. Top each cake with 2 tablespoons whipped topping; arrange 1 maraschino cherry on each cake. Freeze until ready to serve. Let ice-cream cakes stand at room temperature 5 minutes before serving.
I love this at tea time for a unique and unexpected treat! Serve it instead of cookies along with your delicious scones and jam.
This next recipe is one of my favorites. Chocolate and more chocolate.
Buster Bar Ice Cream Dessert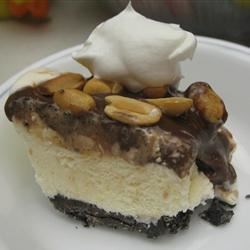 Just like my favorite dessert at Dairy Queen. Yum!!
Ingredients
1 pound chocolate sandwich cookies, crushed

1/2 cup margarine, melted

1 3/4 cups confectioners' sugar

1 (12 fluid ounce) can evaporated milk

1 cup semisweet chocolate chips

1/2 cup margarine

1 teaspoon vanilla extract

1/2 gallon vanilla ice cream (or if you're a chocoholic like me, chocolate or dark fudge ice cream)

1 1/2 cups spanish peanuts
Preparation
Combined crushed cookies and melted margarine and press into a 9x13 inch dish. Chill 1 hour in refrigerator.

In a saucepan over medium heat, combine confectioners' sugar, evaporated milk, chocolate chips and 1/2 cup margarine. Bring to a boil, stirring constantly, and boil 8 minutes. Remove from heat and stir in vanilla. Set aside to cool.

Slice vanilla ice cream into 3/4 inch slices, and place them in a single layer over the chilled crust. Smooth the seams. Sprinkle the peanuts over the ice cream. Top with the cooled chocolate sauce.

Cover and freeze 8 hours or overnight.
This is beyond good. One of my all time favorites and you can swap ice cream and nuts to give this dessert a twist. How about Maple Nut ice cream with walnuts or pecans. Your creation...your choice.
And this last one will make you think of songs around a campfire!"She'll be comin' round the mountain when she comes..."


S'Mores Coffee and Fudge Ice Cream Cake
A decadent, impressive dessert that appeals to everyone's inner Boy Scout or Girl Scout. Begin preparing this a day ahead.
Ingredients
16 whole graham crackers (about 8 ounces)

1 cup whole almonds, toasted


3 tablespoons sugar

1/2 cup (1 stick) unsalted butter, melted

1 1/2 quarts coffee ice cream (or chocolate if you don't like coffee), softened until spreadable

fudge sauce

1 7-ounce jar marshmallow creme


2 cups miniature marshmallows
Preparation
Preheat oven to

350°.

Finely grind graham crackers, toasted almonds and 3 tablespoons sugar in processor or blender. Add 1/2 cup melted butter and process mixture until moist crumbs form.

Press graham cracker mixture onto bottom and up sides of 9-inch-diameter springform pan (if you have one) with 2 3/4 inch sides.

Bake crust until edges ar golden, about 12 minutes. Cool crust.

Spread 2 cups softened ice cream in crust. Spoon 3/4 cup cooled fudge sauce over it. Freeze until sauce is just set, about 10 minutes. (Refrigerate or freeze remaining ice cream as necessary to prevent ice cream from melting.)

Repeat layering with 2 cups ice cream, then 3/4 cup sauce. Freeze until sauce is just set, another 10 minutes, then spread remaining 2 cups ice cream over it.

Cover and freeze overnight. Refrigerate remaining fudge sauce.

Preheat broiler. Warm remaining fudge sauce in small saucepan over low heat. Remove from heat.

While sauce is warming, place cake on baking sheet. Spread marshmallow creme over top of cake. Sprinkle miniature marshmallows over in single layer. Broil just until marshmallows are golden brown. Watch carefully so they don't burn, about 1 minute.

Run knife between pan and cake to loosen. Remove pan sides or carefully remove cake from pan.

Cut cake into wedges. Serve immediately with warm fudge sauce trickled over top.
OMG, is this good!!!! A little extra effort, but it is absolutely delicious!
Well, there you go! A few recipes to celebrate a most excellent month. Now go grab an ice cream or the ice cream man! Whichever you prefer! LOL
Until Monday!
http://cjengland.com
http://groups.yahoo.com/group/CJsaysFollowYourDreams/