Hey all,
I don't have a guest blogger this week (right now I'm trying for every two weeks), so I thought I'd hit you with a little bit of shameless self promotion.
This is the first in a series of books I did with Under the Moon / Final Swords Productions. It's still available and can be bought through
Amazon
,
the Publisher's Website
or you can get an autographed copy through my
WEBSITE
.
Anyway, here's a bit about this fantastic and imaginative PRINT ONLY collaboration.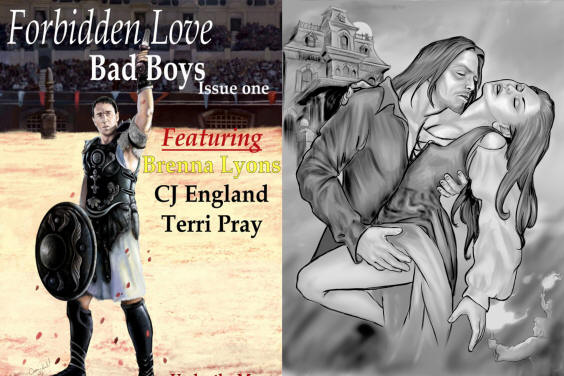 They are the men who catch our eyes, the rogues, the dangerous dark lovers we'd never take home to our parents. The ones who provide a source of fantasy for dark nights alone, or shared with understanding friends. We shouldn't want them, we know better, yet we can't look away.
Welcome to the world of Bad Boys.
Join award winning authors Brenna Lyons, CJ England, Terri Pray and others as you meet Vampires, Gladiators, Pirates and more within the pages of Forbidden Love.
A multi-author anthology starring some of the most deviant erotic minds in the publishing world, filled with some of the darkest, voracious male lovers a woman could dream of.
~~~Fallen Angels Reviews
My story is called
An Unholy Embrace
and it's one of my favorites. Curious to read more? Go to my
WEBSITE
for all the details and for an exciting excerpt that begins the story of the ancient vampire, Sebastian and the lonely and unwanted, Teran. Find out what happens when you...
Wake Up in the Arms of a Vampire.
Until next time,