Inquiring minds want to know... And will continue to question through the month of May...
Hey all,
It's Friday, May 7th and this week Jonathon and I are traveling in Cambodia and Vietnam. I may have access to internet. The hotels we are staying at say they have it, but... Well, you know how that goes. LOL
But if all goes according to plan, by the time you read this, we will have visited the wonderful city of Siem Reap and explored one of the Wonders of the World, the
Temple of
Angkor Wat
.
Can you say amazing? I had forgotten completely about this beautiful temple until I started researching Cambodia. At first we didn't think we could go because of border difficulties. But we were able to move things around and fly into the airport and visas are easy to come by there.
But just look at the picture. I can't wait to discover all there is to see there and you can bet your bottom dollar I'll get a story out of it. How could I not? Can't you see this used in a sci-fi book? Or maybe a fantasy about elves, trolls and goblins? I'm getting all dreamy-eyed thinking about it.
We also have plans to visit a silkworm farm, get a massage and spend time at several of the villages nearby. Our days will be full and so enjoyable.
That all happened while you were entertained by my guest blogger, Joe Vadalma. As you read this today, Jonathon and I will be exploring Ho Chi Minh City, Vietnam and taking a trip down the
Mekong Delta
.
There is so much to see, I'm not sure we'll be able to cram it all in, but we'll do our best.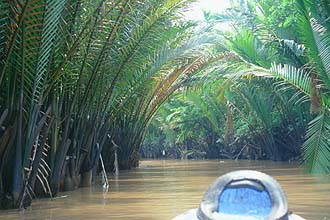 Taking a trip down the river to one of the famous floating markets, then on past rice paddies, jungles and villages, we'll be able to see a good deal of the countryside. And if we have time, we want to run over and do some snorkeling in the beautiful waters of the South China Sea.
Then later on, after our journey, we plan to explore
Ho Chi Mihn City
(Saigon) a bit more. It is supposed to be a lively city with all kinds of shopping, entertainment and night markets. All I really know about Vietnam is what I heard about during the war and I look forward to seeing this country in it's new form.
After that, it's back to Kuala Lumpur to get ready for our next destination. Kathmandu, Nepal. Due to visa problems (can't get a visa to India unless we go home to the states or pay exorbitant rush fees) we don't get to see the Taj Mahal. I'm bummed about it, I really, really wanted to go to India, but it's not all bad news. Since we can't go to India we get to spend even longer in the Himalayas. How cool is that? I'm so going to scope out the Yeti and take his picture! LOL
And, we get to do some trekking in the mountains and see Mt. Everest. Now that is something to check off the Bucket List. Morgan and Jack would be so proud! LOL
We won't have any internet while up in
Kathmandu,
so other than the pre-planned post, you won't hear from me. But keep me in your prayers and thoughts. We'll need it!
Everyone take care and I'll post if and when I can!!!!
CJ England
Follow Your Dreams