Hey all,
Jonathon and I had a great couple of days off. The weather wasn't too good, but we learned a long time ago not to let that stop us. We went about town, sightseeing and playing, then did what we enjoy most of all.
Eat.
You'd think I'd weigh 900 pounds the way I like to put it away, but with all the walking I do, I manage to stay in shape. But here in Amsterdam, it's not easy. I could spend 24 hours a day eating and never even scratch the surface of what is offered. And the thing is...with just a few exceptions...it's all DELICIOUS!!!
I mean it. Jonathon and I are really good at searching out different restaurants, and when you eat out as much as we do, we're prepared to hit some and miss some. Yet so far, in the six weeks we've been here, we've only had one miss. And even that one wasn't too bad. We ate and it was okay. We just wouldn't go back a second time.
Overall, Amsterdam is an awesome place for foodies. Everything is available. All kinds of foods from all kinds of nations. You can walk down a single street and find dozens of different ethnic choices. It's amazing.
The Dutch don't really have a special food--at least not one that is so well known you see it on every corner in the USA. Not like Thai or Chinese, Italian or Mexican.
If I had to pick a food I'd consider Dutch in the short time I've lived here, I'd have to say their pancakes are what make me think Dutch.
And the pancakes are yummy. Crepe-like, but with a slightly different taste than what we ate in France. They will give you just about any kind you want--from ham and onion to banana and strawberry. Whatever you're in the mood for.
But other foods? Not so much. There are a few restaurants we've seen that tote Dutch cuisine, but I haven't seen one yet that pulls me in and says "EAT HERE". So we've tried many others. Mexican, Italian, Argentinian, Chinese and of course, the fast food restaurants-when you just need a quick fix, McDonalds, Burger King and Subway.
I also enjoy going into the brasseries for a quick meal. You can get meat pies, slices of pizza, sandwiches and things I have no idea what they are, but look delicious. Every once in a while, I'll stop in and try something new.
The best food we've had here was in a place called
In de Waag
. It serves Mediterranean cuisine with a Dutch twist and was honestly the best food I've had in a very long time. The restaurant sits in one of the old city gates where the weigh house (waag) used to be. This is what the website says about it...
The original small gate with crenels probably dates from as early as 1425, and in 1488 a major extension was made to the gate during the construction of Amsterdam's stone city walls. This magnificent historic building with its constrained yet informal interior design is lit by 300 candles. A combination that ensures a unique atmosphere.
And it does. As you can see by the picture, it's quite beautiful, and the food, service and atmosphere is beyond fantastic. The dinner menu is a little bit spendy, but worth every penny. I'd go back again in a heartbeat!
On the other end of the scale is a place called
Tony's NY City Bagels.
It's right near our apartment and serves New York style bagels and coffees. Inexpensive, fast and easy, it's perfect for a quick bite in the morning or afternoon tea. The bagels are excellent--very similar to New York style--and they actually serve coffee that ISN'T in a thimble size cup! And it's good. We love sitting in the window and watching people as we nibble on our breakfast.
I could go on and on, but there are so many places we've enjoyed here, I'd run out of room before I'd run out of restaurants. If you're ever in this part of the world, you won't regret trying some of these out. You can be an Amsterdam foodie too!!!
Until Friday!
Hugs,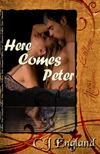 Follow Your Dreams