Hey all,
Thanks to those of you who took the few minutes to comment as requested. It helped me figure out what was going on and what to do next. I hope now that things are getting back to normal I can pick up the blog and the FREE READ and do them every week. We'll see how it goes, but I'm going to be busier than ever with what I've got coming up.
More on that later.
Anyway the trip to Barcelona was easy. I'd been told Orly Airport in Paris was a nightmare to get out of. Horribly long lines for security checks, no organization and nasty mean employees. But I am pleased to report we didn't run into any of that. We gave ourselves extra time to get through but the lines were quite short, there were people directing traffic and all seemed quite pleasant, even though it was godawfull early in the morning. The only complaint I had was their internet wasn't free.
A quick, uneventful flight and we flew above the sparkling water of the Mediterranean Sea and landed in sunny Barcelona. At first glance the city is flat and unprepossessing. In wintertime it looks like brown and gray squares from the air. But later on, when we'd stowed our stuff and headed out to play we found something very different. A veritable treasure trove of the different and unique.
Now, as I've said before, this is a new country for me. I've never had a chance to visit Spain and I was really looking forward to what we might find. Jon didn't have to report for work until last Thursday, so it gave us a day and a half to look around and get our bearings. And we had a great time doing so.
We didn't do anything in particular. In fact, we really did nothing at all. Whenever we go to a new town, we just pick a direction and walk. And we see whatever it is we see. We've found the most interesting things that way.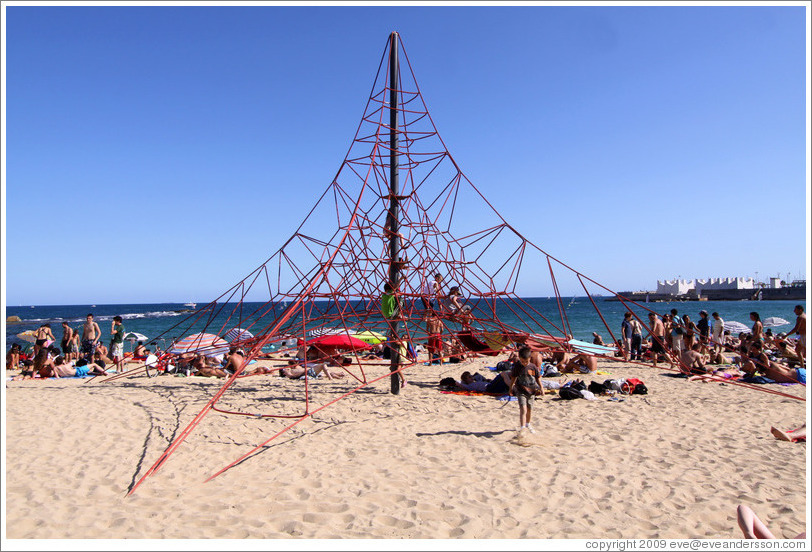 And so it was with Barcelona. We first walked down to the beach, since we hadn't been to the Mediterranean before. The ocean was so beautifully blue and clear and the beaches were clean and well taken care of. They've got playgrounds with "toys" I've never seen before, plus some odd looking art and even surfers using paddle-boards to catch the small waves hitting the shore.
Seagulls swooped and screamed and we breathed in the salty smell and laughed with joy. It had been a long time since we'd been able to walk on a beautiful beach and I have to admit, the only thing that would make it better would be if we were sipping on a fru-fru drink at the same time. LOL
Then we turned inland and started wandering the streets. We wound up in a area of town with tiny streets and even tinier alleys. The architecture was jaw dropping and there was an air about the place. You could just feel the age of the streets and sense the history as you walked through. This is apparently an area of Barcelona where once upon a time medieval jousts were held. I immediately fell in love with it. We plan to spend A LOT of time there.

Then we strolled down by the harbor front. We grabbed a Starbucks coffee and watched the gulls swoop down on the fishermen. We visited the Christopher Columbus memorial. (Go
HERE
to find out what that's all about.) And then we joined the crowd and walked up Las Rambles, the most famous street in Barcelona.
Las Rambles is a VERY touristy street. Souvenir shops, cafes, bars and street performers. I walked by a bronze statue of Will Rogers and wondered why they had a statue of one of our American heroes. Then I did a double take and realized it wasn't a statue at all! It was a guy painted bronze and so still he totally fooled me at first. I was impressed.
We found a restaurant and ate seafood paella (OMG good), drank sangria (OMG good again), and enjoyed a yummy dessert of chocolate gelato (OMG the best!!!). We love traveling just for the food and I think we'll do very well here!
So that was our first two days here in Barcelona. We've still got almost a full two months more, so as you can imagine we've only scratched the surface of this delightful city. Museums, parks, mountains, restaurants, and some of the most interesting architecture I've ever seen. The artist/architect Gaudi has many different buildings here and his work--though unknown to me before now--is so unique and eye catching, I find myself drawn to discover more of what he's done.
So stick around and see what else I find here in Barcelona. I'll blog about what I see, hear, discover, like and dislike and you can live vicariously through me. I'll also be sharing some of what is coming up in my professional life. I've got some new things going on and new stories being written...finally! LOL
Check back with me next time and I'll show you another one of Barcelona's special attractions. Until then I'll leave you with a picture of one of Gaudi's most interesting buildings! Enjoy and catch you on the flip side!
CJ