Just got back from my weekend and noticed my Monday blog didn't post. *snarl* I'm not loving this new blogger. I'll post it for today and push back today's for later. Sorry...again...about that.
~~~~~~~~~~
A painter paints pictures on canvas. But musicians paint their pictures on silence. ~Leopold Stokowski
Hey all,
I love this quote. Because it's so true. Music paints pictures in your mind, and you can dream away, never having to even open your eyes.
But I've discovered something. When you put music and painting together, you create something even more amazing.
That's what they did at the Van Gogh museum here in Amsterdam. They have a special exhibition called Dreams of Nature (is it any wonder I loved it?) which presents paintings with symbolism. Some are weird, some beautiful, but all make you think.
Today's blog is about one of the paintings I discovered, because it immediately sent me into dream mode. I sat and stared at it forever--until Jonathon dragged me out of the room. But it wasn't just the painting that caught me, it was how it was presented.
With music.
The painting was this one... (click to get bigger)
The Isle of the Dead
by Arnold Böcklin. It's beautiful, mysterious and it touched me in a way some art can. But like I said, what made it better was the museum combined it with music, and not just any music. They used
Rachmaninov's - The Isle of the Dead, Op. 29 as a background, and I have to say, as you sit in a darkened room staring at the painting and listening, it was a completely different experience. One I'll never forget.
Try it for yourself. Dim the lights and click on the picture above. Make it larger so you can get the full affect. The click on the videos below, sit back and dream...
I'm not a classical music type of gal, but this opened up a brand new world for me. They had several of this sort of display in the exhibit, but this, out of all of them, was the one that grabbed me. That's the thing about museums. Not just what you can see, but what they make you feel.
Culture for me is just a stepping stone to more dreaming.
See you on Wednesday!!!
PS...Tell me what YOU think in the comments below! I'd love to know if it rocked your world or left you cold.
Hugs,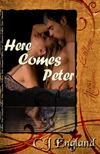 Follow Your Dreams