Hey all,
It's Friday and I thought we'd have a bit of fun today at the expense of some of those celebrities who we've paid out hundreds of dollars to see.
As some of you may be aware, this coming Sunday is the 84th annual Oscars awards. And while it's not something I watch, (I hate awards shows) a lot of people look forward to this special night.
I read something on the internet today that seemed perfect for a Friday Lighter Side Blog. On Yahoo they had a list of those Oscar winners who might have a few embarrassing skeletons in their closets. I thought it was worth a look-see.
Now some of these I agree with, but some I don't. For example, while I do cringe every time I listen to Pierce Bronson sing in Mama Mia!, I still love that movie and enjoy watching it. I adored Colin Firth in What a Girl Wants--silly leather pants and all. I wanted a daddy just like him. And my favorite role by Brad Pitt has always been his take on Death in Meet Joe Black. He was so damn sexy, my little heart went pitta-pat.
I guess in the end it's all a matter of opinion. One man's great movie is another man's razzberry. My favorite movie could be the one you hate over all others. Put thirty people in a room and you'll probably get thirty different lists.
So let's make one here. Let's make a list of the favorite and the least favorite movies we've ever seen. I'd love to hear what everyone thinks. I'll even start...
My Favorite - Actually have several, but if I were to watch a movie over and over again, it would be Pride and Prejudice with Keira Knightley and Matthew Macfadyen. I know it's not an Oscar nominee, but I can watch that chick flick until my eyes bleed. The part where he tells her he loves her just makes me melt. *sigh*
Least Favorite - Mystery Men. God, I hated that flick. Bad acting, bad costumes and just overall bad. What a waste of time and film. I wanted back the one hundred twenty-one minutes I spent watching it.
What about you all? Do you have a favorite or a least favorite? Put your answers in the comments below... Give a reason too, so we know why you feel the way you do!
Until Monday all,
Hugs,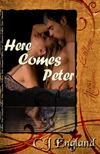 Follow Your Dreams