Hey all,
We have another great author to meet today. Allie Harrison aka Allie Quinn is a writer of paranormal, suspense and just downright scary books. Add a bit of romance and you have a recipe for wonderful stories.
Here's a little about the author from her website...
Allie Quinn lives with her husband in southern Illinois. When she isn't dreaming up the next hot, sexy, scary or keep-you-on-the-edge-of-your-seat romance, she enjoys reading other favorite authors. Whether she's traveling the country or shopping at the nearby discount store, she's always on the lookout for her next hero, heroine, or unforgettable, entertaining character. She enjoys crafts, gardening, cooking, and of course, spending fun time with family and friends. Life is an adventure. Allie Quinn works to create it as well as live it.

Let's see what Allie has to say!
~~~***~~~
By Allie Harrison
Ah, Welcome to October, my favorite month of the year! Not only is the air cooler and less humid, but colorful leaves fall like snow and create a pallet of decoration!
And Halloween is coming!
Are you a lover of Halloween or do you dread it? Do you see the decorations in the store and quickly walk past or stop to see what's new? Do you decorate your house or decide this year you won't even turn on the light for trick-or-treaters?
And what about all the things associated with All Hallows Eve? Do you believe in ghosts, things that go bump in the night, or have you ever felt as if someone watched you? Have you ever walked through a 'cold' spot?
While I'm not a true 'ghost hunter' and I don't sneak into houses that are dilapidated where I might fall through the floor and land in the cellar with a broken leg, I'm not afraid to venture into houses known or thought to be 'haunted.'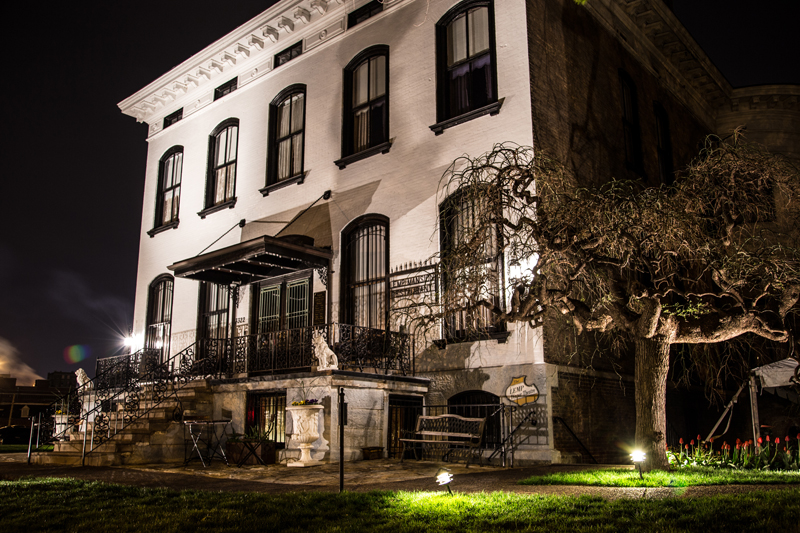 One I have visited and eaten at several times is a Bed and Breakfast/Restaurant not far from me called the Lemp Mansion.
Built in 1868, it was home and business office to members of the Lemp family who owned and ran the once great Lemp Brewery. It is also the home to many so-called ghosts and is on the list as one of the top ten haunted houses. While it's no secret there were several deaths within its walls, there are many undisputed tales that surround it. Was there really a secret child kept locked and hidden in one of the upstairs rooms? And what about the Lemp family members who supposedly committed suicide via a self-inflicted gunshot wound? There were at least four suicides. Two were under mysterious circumstances and only one left a suicide note. What might be hidden in the tunneled catacombs below the house that led to the brewery down the block?
Was there really a 'curse' in the Lemp bloodline?
Have I seen any ghosts at the Lemp Mansion? No I haven't seen them, but I have seen evidence of them and definitely felt them. There is a heavy horrible feeling, like a sense of doom (or whatever you'd like to call it) in the first room inside the front door, which was William Lemp's office. I feel this every time I go there so strongly, in fact, I cannot sit or eat in that room when I go there for lunch. I know this sounds funny, but everyone who goes there needs to check out the restrooms. The ladies' room is home to a shower stall the Lemp family had shipped all the way from France. There is a single, simple-constructed, stall in the ladies' room. During a murder mystery dinner, my mother went to use the ladies' room. She noticed right away the stall was occupied. So she stood at the mirror and touched up her make up as she waited. The toilet flushed but no one ever exited the stall. She waited longer and finally knocked. The stall door creaked open and no one was inside!
The Lemp Mansion is also a Bed and Breakfast. It is fun to explore and take in the three vaulted rooms where the once-prosperous Lemp family kept their money safe. You can stay the night if you're brave enough! You would even have your choice of several beautiful rooms in which to sleep—if you can fall asleep. The staff does not even stay. A house door key is given to the guest who is staying the night. And there is a courtyard where weddings and/or parties can take place. I can't help but wonder how many weddings have had a ghost or two as a guest! Aside from the ghosts, the Lemp Mansion is a great place to go for lunch or a family style chicken dinner on Sunday, if you dare…
From ghosts, to quaint bedroom ideas, to creepy stairs, I used a bit of the Lemp Mansion as a model for my book Hargrove House by Allie Harrison. I hope you enjoy it, as well as all my books.
Have a great Fall, a wonderful October, and a very Happy Haunted Halloween!
Allie Harrison
~~~***~~~
What a great blog! I love visiting those type of places and have done so quite often in our travels.
Someday I hope to visit Lemp Mansion and see exactly what Allie experienced. And speaking of experience, if you'd like to experience more of Allie's books, you can check her out here...
Also writing as Allie Quinn. Released today from Allie Quinn: BY INVITATION ONLY.
I'll be back on Friday with some last minute pictures and fun from Austin, Texas. Until then, have a great week!
Hugs to all,