Hey all,
We made it! We got to Amsterdam without any trouble. Just the normal stuff you have to deal with when you fly. It was a beautiful sunny day when we left Barcelona but when we arrived in Amsterdam we were hit with cold worse than Paris.
Brrr...
Really glad we didn't pack all our cold weather gear away in our suitcases!
We have a really nice apartment right in between a couple of canals. This is a shot of our living room-kitchen. It's really big and the rest of the place is the same way.
We are only a few streets away from the Red Light District, Chinatown, and the main part of town with all the museums and attractions. Walking distance to just about everything!
Except the circus tent. That's quite a distance away, but luckily a straight shot on the metro. Jonathon and Ian both get reimbursed for their travel, so it makes it easy.
The first two days we spent here in Amsterdam were quite interesting. We didn't do anything major, just wandered around and saw the sights. Like I've said, we've been here before, so we revisited some places we'd enjoyed the first time around and got our bearings. Then, the next day we tried wandering new turf. That's always exciting.
One thing we discovered was our first windmill. I'd seen one once before from the air, but that only counts if you haven't seen anything else. *grin* This one was pretty cool. Not a working windmill, but one even better in some ways. It was a windmill that had been renovated into a bar!
I have to say it's a very cool place. Inside is very cozy and the people who tend bar are friendly and quick with a refill. It's a little like going into your neighborhood pub at home. You feel welcome the second you step inside.
They had a taster of all their draft beers which I got. I love that kind of offer. I've found several of my new favorites that way. The inside of the pub is lined with shelves covered in beer bottles. We were told they weren't from the bar--no--that honor lies with one of the patrons who collected them over the years. When he ran out of room at home, he brought them down to the pub. Every month he comes in and cleans a section. It was great.
After our refreshment stop, we went down to the harbor area and picked up our Amsterdam Museum Pass. This puppy gets us in to 35 museums in Amsterdam and close to 400 in the Netherlands proper! And we have a full year to use it! PLUS, it is like the one I did in Paris. You can go back to the museum as many times as you want.
We visited the Maritime Museum first--just a big schooner outside. It was a replica of an East Indian Trading ship and it was great to see how the sailors lived for months on end.
They had a video presentation about the trading routes they built and it was enlightening. I'd read about the EIT in several romance novels, so it was good to get the rest of the story.
We'll go back another day and see the rest of the museum. We ran out of time and were getting hungry, so we headed down into the main part of town to eat.
Since Dutch food is difficult to find in Amsterdam--seriously, it's probably there, but we sure couldn't find anything-we discovered a great Argentinian restaurant and ate there. Jon had spareribs and I had steak and it was awesome. The guy who served us was a delight and we had a wonderful first meal. We wandered around afterwards walking our meal off and then headed home. Jonathon had an early day, so we wanted a good nights sleep.
The last few days he's been working, so I've been doing my part and putting our house together. This is my favorite part of moving. Setting up our apartment and making it a home. I want Jonathon to come back each day and feel comfortable after work. And he says it makes him relax better when he sees familiar things around him. So I make it so.
I got that all done, did some grocery shopping and found something pretty cool while doing so. Just around the corner from our apartment is one of the biggest flea markets around. Another awesome! It's got a little bit of everything, so I'll enjoy exploring it.
Anyway, the next three months should be interesting and enjoyable. We've already had one celebration--we went out last night for our traditional Saint Patrick's Day drink. Now we can say we have done that in six different countries! LOL
You all have a great beginning to your week. I'll be back on Wednesday with a closer look at one of Amsterdam's biggest attractions. The Coffee Houses. Space Cake anyone?
Hugs,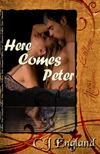 Follow Your Dreams