Hey all,
According to Google, the above means 'Welcome to Amsterdam'. And as you read this, Jonathon and I will be wandering around that great town taking in the sights.
As I've said, I've been to Amsterdam before--three times on layovers, but this will be the first time we've spent a good block of time there. I know there are quite a few things to do and we hope to spend some time touring around the countryside.
There is a canal trip we are going to go on--an overnight trip to a danish village--complete with a tour of a windmill, a tulip farm and a wooden shoe factory. We're looking forward to that.
There are museums, parks, restaurants and other attractions we have on our list and several months to do them. And I'll keep you up to date on all that I find here.
Now you know that Amsterdam has a few sections of town that are considered... "naughty". I've been there already and enjoyed the freedom of the coffee houses. I've wandered through the red light district and not known where to look as I passed by the women on display. I may not go into the red light district again, been there, done that, but I have to admit I liked spending an afternoon sitting outside a coffee house and enjoying a smoke now and then.
Anyway, once we get settled, I'll be back with more on our trip and the fun stuff we have planned. And I'll be back on Friday with another trip to the Lighter side!!!
Hugs to all,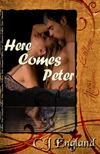 Follow Your Dreams